It's time to dazzle at a Christmas party that gives us the perfect excuse to go out with sizzling outfits. Dressing up for different parties usually means coming up with multiple outfits. It's the greatest time of the year with some holiday dinner, Christmas decorations with snow-dusted, wrapped gifts, and much more to make new memories to celebrate family tradition. Also, take some time to gather every moment and capture it with a photoshoot for this season. You can also make your preferred photographer capture every moment in the event. Take some time to decide which outfit to wear for perfect Christmas click by taking family pictures, couple photos, or solo shots to gather the best Christmas photo outfit ideas to dazzle the world. You will definitely get the perfect clicks on Christmas outfits, formal from outfits to cozy stuff wear for you as well as your family.
Many celebrations to attend during this festive season because you want to look stunning for this party. You require different dress codes to choose from Mjacket.com and Torsejackets.com for the Christmas party dress that has never been so exciting with the endless list of events. It is the time when you top up, go outside and have some fun during the celebration. You can also try some vintage outfits in different ways as glittery and sparkling coats are stylish and trendy for Christmas. Most youngster likes to wear outfits with a different color combination as bold colors can be worn at late-night parties. Think about the luxe fabric and texture like cozy knits, velvet, rich metallic, etc. if you want to look professional but basic at a party organized at the office. We have a list of Christmas party outfits ideas to deliver style.
Wear some casual for the party:
If you want to wear some casual outfits for the party, then you top up with a belt or necklace over a skirt. You can also wear a golden blazer with a black shirt with a matching purse and a pair of shoes. Normally Flats can be worn at the midnight parties if you plan for it with your friends as casual wear or if there is some dancing or hosting involved in it for a short moment then you can go for heels.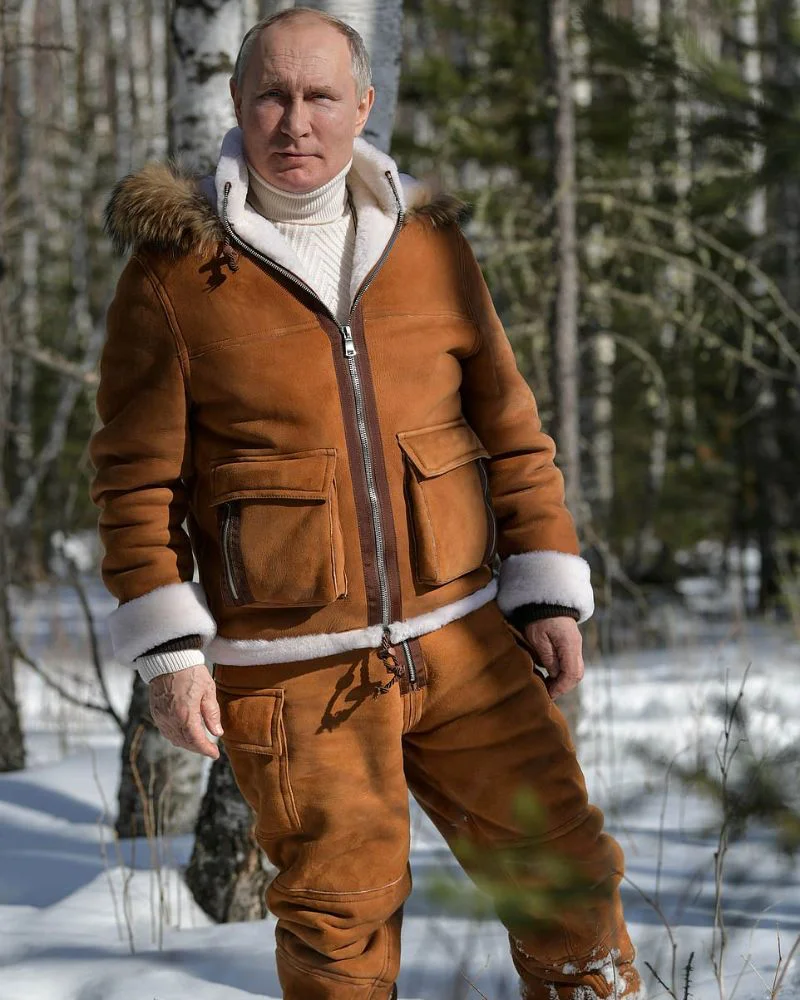 Wear the outfit that feels comfortable on you as the casual stuff allows you to shine informal meetings or a certain style. But don't forget that it's Christmas so you must try Vladimir Putin hooded Jacket in this festive time to pull out your sizzling casual outfit.
Wear some Semi-Formal for the party:
These types of dress can be difficult to adjust it and also be challenging to soften look if you don't want formal dressing. The best way to dress up as a semi-formal dress is the pantsuit that fulfills your requirements. Wear something which is more casual than a black tie with your suit or more formal than a cocktail for the event.
If you want to reveal more skin then you can pair it with dazzling heels and a clutch to fulfill your dress to look stunning. You can also try Amy Parka Christmas Coat with knee-length or longer to enhance your look.
Wear some festive outfits for the Christmas party:
You get the opportunity to have some fun with your outfit if the invitation says festive. Pick an outfit that suits a mixed cocktail or semi-formal clothing regulation, yet make sure to get something that has a holiday covered in it.
This could be as basic as wearing a Cheryl Cole Red Jacket obviously, the more intention you put into your festive clothing, the more you'll stand out among the companion. Think embroidery, plaid, festive shading or you're set up to dress somewhat wild, discover an outfit with Christmas-based prints.
Wear some winter outfits based on Christmas:
Layer your attire to remain warm while as yet looking chic. Keep in mind, each layer needs to look amazing as you should take a couple off. Get your ideal staple pieces down and after that, the rest will be simple.
Match a charming sweater or turtleneck with a pleasant pair of pants, at that point includes dashing boots or advanced heels.
Next, you'll be requiring that huge comfortable coat to put over the top. You could even include a remarkable belt for the ending as opposed to utilizing the catches. At last, finish off your look by hanging a pack over your arm and voilà, you're ready.
Wear some cocktails at the party:
The Cocktail outfit standard requires a fabulous dress that sits on or over the knee. Additionally, remember that heels are a basic necessity nowadays for every girl. When picking a dress, you'll have such a great amount of research to browse and have some fun with it. Although you're uncertain of what to pick,
a little dark dress will be your closest companion. Simply ensure it's fitting for the event, you need to look advanced so don't choose anything excessively uncovering.