As the winter arrives, there is one question on every style followers mindset that what we invest in a shearling jacket that has both the trendy and stylish look and top up with a beautiful bottom and footwear to look more luxe in the street. We have many options in shearling stuff like B3 bomber to aviator jackets to choose from a wide range to collection to wear and impress the audience outside in the streets during the winter season. These outfits are ageless so nothing happened surprisingly that they are back in trend in the current year so it's time to get these jackets as your winter collection by searching several online stores in deep and taking out your most preferred stuff that suits your appearance.
Keep one thing in your mind that choose the better quality product which is made of genuine sheepskin or lambskin with the inner layer of wool material that makes the piece more soft and pleasant to wear when you go outside. It also has pockets to carry your important stuff well protected in the outfits. One more important thing to discuss is that don't follow the trendy style in every situation, try to focus on your appearance that you feel comfortable on it or look flawless in it. This stuff gives you a cozy and warm feel in cold breezy weather. In terms of shearling coats, these outfits have never been outdated in fashion. Although you feel boring while searching out leather jackets so take it out of your mind and search for sizzling and dazzling shearling leather jackets to enhance your entire look. From runways in fashion week to casual wear, all the highlighted models can wear these dazzling jackets in the season and engage the audience in the fashion week. These models have no limits to wearing it in different ways in the streets so it doesn't matter how old are you, your body figure, or your skin tone is.
If you are facing difficulties or a little bit confused while purchasing your jackets then I will guide you on what to wear in shearling leather jackets and what to top up with it.
Enhance your style while traveling
A shearling leather jacket for women can be styled with anything around the streets to deliver the fashion if you want to stay a little bit warmer for travel adventures. You can top it up with a scarf and beanie, pair of black tights, and take on some suede boots over the knees to get the fabulous look outside.
You can also top up with a tan cuff and a striped top/graphic tee. Bottom with a miniskirt and black transparent tights to get the style cues.
Engage your friends in the gatherings
In terms of men's fashion in shearling leather jackets, they can top up with a t-shirt or tank top to give you the stunning look.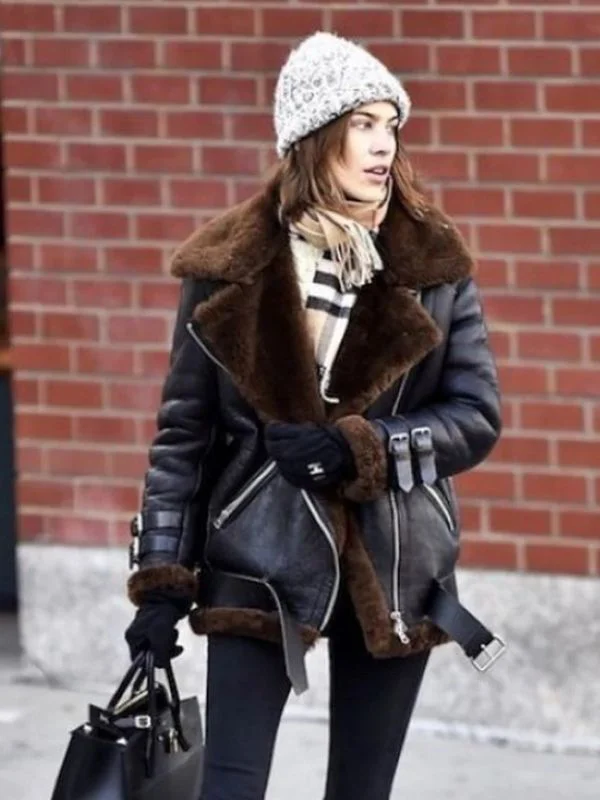 A fur lining in these jackets gives you a pleasant warm feeling and you don't need to wear a sweater or wool stuff under this outfit. Mauvetree, an interactive online store to gives you lots of unique designs and collections with genuine fabrics to attract the public with their enhanced features.
Pop up your style in the streets
In terms of streetwear, if you want to enhance your look, you can top up the shearling jacket with a vest in a similar time. The attraction behind the cool stylish look is the fur lining jacket.
Aviators are extremely popular this season, regardless of whether they are sunglasses or jackets. You certainly need one of these in your closet if you are somebody who loves intense looks. Every man has a wish to look prominent in society so you follow the perfect getup whether you have a busy schedule or you are traveling around the world.
Enhance your look with a camel-colored shearling
It is a classy design and a timeless piece for women that the audience engaged it and invest in shearling leather jackets.
So wear the shearling jacket with a white shirt, a pair of simple black jeans, and casual black boots to showcase your fashion around the streets as well the formal getup for working women to enjoy their work in the winter season.
Wear it with a dazzling belted cuff
For a modern look, you must wear the shearing leather jacket with a pair of denim jeans with a belted cuff to dazzle your look. You can also add a muffler scarf as an extra top-up to enhance a more striking appearance in terms of a fashion statement.
You can also create your own style and creativity but you should have some knowledge of real shearling or sheepskin before you buy it.
Top up with a lovely maroon jacket
They are considered to be one of the luxurious styling pieces in terms of other pieces and color tone.
These unique jackets have an enhanced antique texture like a belted/asymmetrical collar with the lining of the soft fur as urban fashion. You can wear it with blue jeans which are very demanded in the mainstream and TV Shows.
Wear the classy black shearling jacket
Black is a definitive shading for youthful style likers. Although, you need a winter recommendation, at that point take new slick looks black jacket with white shearling.
An ideal look can be gained by wearing a hide-neckline jacket with an appropriate haircut and a delightful smile. For a smooth and refined look that gives a portion of urban edge. Biker jackets offer warmth without adding useless mass to your outfit. This style of jacket sits right a couple of creeps underneath the hip line and is an extraordinary outerwear choice when you have to stroll around however need more protection than a conventional jacket gives.
Conclusion:
Anyway, there is no tough rule about what you try to wear or not with these jackets, so you can utilize your own imagination and pick something you are most easy in it, Mjacket offers a trendy Shearling Style Jacket To enable you to advance we have gathered different distinct outfits mentioned above with shearling jackets to toss some real style objectives your way. Hope you love our collection of probably the best patterns of shearling jackets and coats this season. Keep in mind that these are just to give you some motivation and thoughts, you don't really need to adhere to these as your own style cues and solace start things out. Tell us your preferred look in the remarks. Upbeat winters..!!