Introduction
The bewitching season is upon us, and it's time to elevate your Halloween fashion game to spine-tingling heights! This year, we're delighted to bring you the most spectacular "Happy Halloween Fashion Sale" of 2023. Get ready for a thrilling journey through the world of ghoulishly stylish jackets that will take your Halloween costume to a whole new level. Whether you're searching for a Leather Jacket for Halloween Costume Ideas or craving the perfect Halloween Jacket to unleash your inner spooky diva, our collection has it all.
Halloween Through the Ages: A Fashionable Time Travel
1: Fashion Flashback: Halloween 1978 Jacket
Halloween is all about celebrating traditions, and what better way to honor the classics than with the Halloween 1978 Jacket? Inspired by the iconic film that started it all, this jacket pays homage to the original Scream Queen. With its retro vibe and timeless appeal, you'll be the star of any Halloween party. Pair it with a white mask, and you're ready to relive the horror.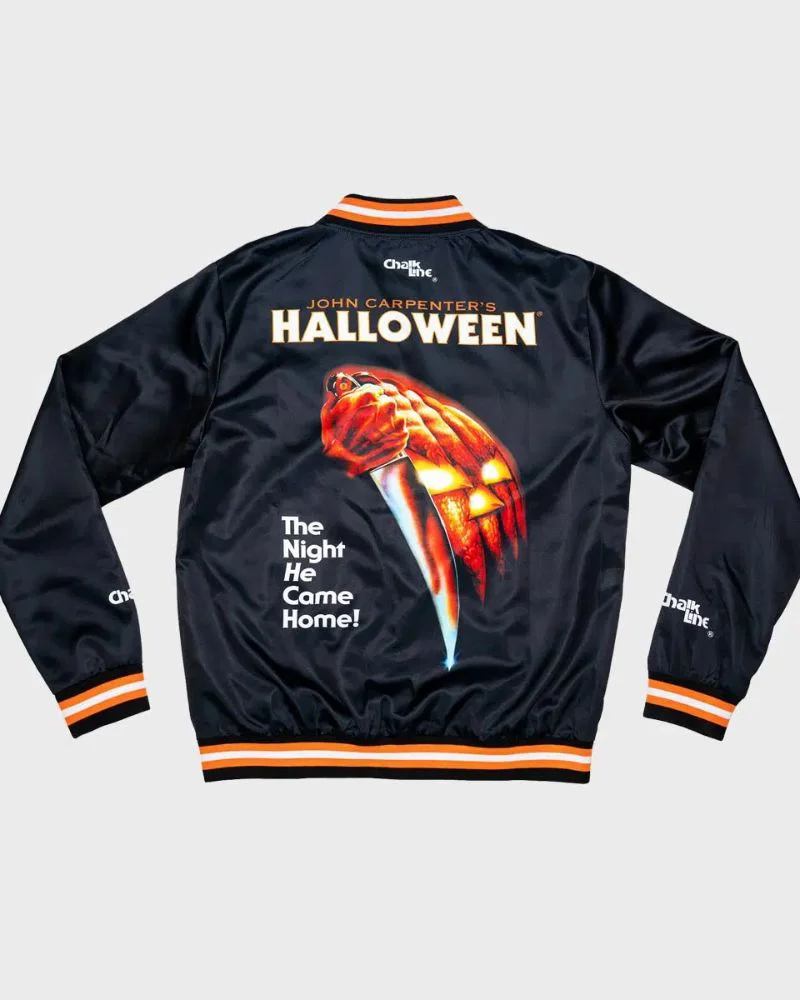 2: Modern Elegance: Helloween Jacket 2021
Fast forward to 2021, and Halloween fashion has evolved into something incredibly chic. Our Helloween Jacket 2021 captures the essence of modern spookiness. With its sleek design and attention to detail, it's the perfect choice for those who want to blend fashion-forward style with the spirit of Halloween. This jacket is a statement piece that will turn heads as you stroll through the pumpkin-lit streets.
Ladies, Let's Slay: Women's Halloween Jacket Collection
3: Fierce and Fiery: Women Slimfit Red Halloween Coat
For the ladies looking to make a bold entrance, the Women Slimfit Red Halloween Coat is your go-to choice. Red as blood and twice as captivating, this coat is ideal for channeling your inner vampire or devil. Its slim-fit design adds a touch of sensuality to your spooky ensemble, making it perfect for a night of mischief.
4: Classic Creepiness: Halloween 78 Logo Jacket
If you're a fan of the classics, the Halloween 78 Logo Jacket should be on your radar. Featuring the iconic pumpkin design from the original film, this jacket lets you embody the spirit of Halloween like never before. It's a nostalgic nod to the past and a symbol of your undying love for all things Halloween.
5: Pumpkin Spice and Everything Nice: Pumpkins Halloween Jacket
Sometimes, all you need is a little pumpkin spice to get into the Halloween mood. The Pumpkins Halloween Jacket captures the essence of the season with its pumpkin-themed design. It's playful, charming, and the perfect choice for those who want to embrace the whimsical side of Halloween. Pair it with your favorite pumpkin latte, and you're in for a spooktacular time.
6: The Ultimate Halloween Fashion Sale
Prepare to be enchanted by the Happy Halloween Fashion Sale 2023. We've curated a selection of jackets that blend style and spookiness seamlessly. Whether you're into classic horror, modern elegance, or playful pumpkins, our collection has something for every Halloween enthusiast. Don't miss out on this opportunity to transform your Halloween costume into a work of art. Embrace the spirit of Halloween and step into a world where fashion meets fright.
Get Your Halloween Fashion Fix Today
Ready to embark on your Halloween fashion adventure? Explore our bewitching collection of Happy Halloween Jackets and find the perfect piece to complete your costume. With options for both men and women, you'll be spoilt for choice. Make this Halloween unforgettable with a touch of fashion-forward spookiness. Happy Halloween 2023, and may your costume be the talk of the town!
Conclusion
As the curtains draw on our spine-tingling journey through the "Happy Halloween Fashion Sale 2023," we're left with the enchanting echoes of Halloween's past and the stylish promises of its future. Halloween isn't just a day; it's a season of imagination, creativity, and self-expression. It's the time when we become whoever we want, and our fashion choices play a starring role in that transformation.
The Happy Halloween Fashion Sale isn't just about jackets; it's about making memories, embracing traditions, and celebrating the unique fusion of fashion and fright that Halloween brings. It's a reminder that, in the world of fashion, there are no rules during this bewitching season.
So, as you choose your Halloween attire this year, remember that it's not just about the costume it's about the stories you'll tell, the memories you'll create, and the thrill of being whoever you desire. Let this Halloween be your most fashionable yet, and may your Happy Halloween Jacket be the ultimate expression of your spooky style.
From all of us at MJacket.com, we wish you a hauntingly stylish and Happy Halloween 2023!